BNED LoudCloud builds software focused on the three pillars of student success – affordability, awareness, and achievement. Our solutions are designed to support our institutional partners with tools to help students remain enrolled, learn, and thrive.

By reducing the cost of learning we can make education more accessible.

By focusing on achievement we can help student see their progress and get the feedback and guidance they need.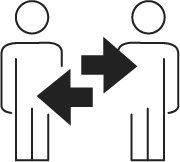 By surfacing insights on student's performance we can help strengthen bonds and create a sense of community.
ABOUT BARNES & NOBLE EDUCATION
Barnes & Noble Education serves more than 5 million college students and faculty and is a strategic partner and collaborator to the 770 stores on campuses nationwide, delivering essential educational content and tools within a dynamic retail environment. Every day, we work to bring new solutions for affordable course materials; the latest in EdTech and digital learning platforms; and student support services that enhance academic outcomes.
Barnes & Noble Education LoudCloud builds software that improves learning. By focusing on 4 key areas – Learning Analytics, Competency Based Education, Learning Management, and Next Generation Learning Materials including advanced OER Courseware, BNED LoudCloud serves educators and students in higher education, and increasingly, K-12 institutions to address the challenges of affordability and retention.
Together with our campus partners, we strengthen each school's mission, drive student success, and deliver an unmatched experience that supports strong revenue growth and continuous innovation. We are part of the fabric of our campuses, deeply committed to supporting and celebrating the social and academic aspirations of students, faculty, alumni and administrators.